Elevated Dog Beds
Here is a video explaining one way to make an elevated dog bed, and two more videos by manufacturers from which you can figure out how to make theirs as well. All three are slightly different styles and approaches.
The No-Sew Method
The Channeled PVC Method (Kuranda)
The Sleeved Method (Rover Company)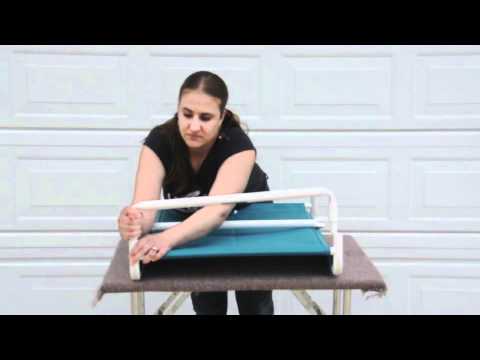 I am in the process of making a pair of "no-sew" elevated beds. I prefer custom made, not only for the price ($10 materials vs $120 Kuranda!) but because I can customize the size to fit my crates and kennels. The beds I am making now are approximately 30" x 23" and they fill an Intermediate sized crate (36" x 23") while fitting snugly in the short end of a Giant sized crate (48" x 30"). However I haven't been able to find good fabric for this. I would like to use cordura or ballistic nylon, like the Kuranda beds are made from, but can't find a local store that carries it. I'm a little reluctant to order fabric online, I'd rather be able to see it in person and touch it before deciding. Anyway, here is my progress pic so far. The two types of fabric we have is an outdoor material and a 12oz denim.